About Us
Our insatiable passion for pickles is what inspired us to create Natural Harvest, which was built on the premise of simply providing our fellow "pickle fans" with a healthy, gourmet pickle. And so the journey began. We gathered our first batch of only the finest, freshest, hand-selected cucumbers and a few wholesome ingredients. Our signature recipe resulted in a crisp, delicious pickle infused with aromatic spices. From harvesting right through final preparation, these are truly premium pickles from the first bite to the last. The passionate picklers at Natural Harvest have a homemade approach to preparing our pickles by working in small batches and hand packing our product in each jar." These gourmet pickles are delectable enough to eat right from the jar. Once you've experienced Natural Harvest, you will agree that they are not your ordinary pickle, they are simply and purely…..Natural Harvest. Our product contains only the freshest ingredients, so be sure to look for us in the refrigerated section of your gourmet food store.
Pickals Joint Venture
For a few very special years, our team at Patriot Pickle had the good fortune of working alongside Arthur Cohen, founder of Pickals. When Arthur established Pickals, it was with a love for pickles and a mission to raise money for ALS research. He began packing pickles in his own kitchen with friends and family. As the business grew, Arthur reached out to Patriot to see if we could help take Pickals to the next level.  The rest is history. Patriot and Pickals built a strong, lasting relationship. Even after Arthur's battle with ALS ended, we continued to build on Arthur's initiative.  In 2020, Patriot Pickle and Pickals formally joined forces, and we're happy to announce that we have committed to donating a portion of the proceeds made from our Natural Harvest product line to the ALS Therapy Development Institute, pushing forward on both Pickals and Arthur's important legacy. Because it's still crunch time for a cure.
Unfortunately, due to ongoing issues with UPS, we have made the difficult decision to terminate the sales of Natural Harvest quarts through this website. We appreciate the loyal business throughout the years.
Products
A favorite among pickle connoisseurs, these are whole fresh cucumbers cured into full flavored classic dill pickles with hints of garlic ….
Our premium pickles are specially cut into spears, revealing the delicate flesh of the cucumber. Natural Harvest's signature brine of ….
These fun pickle chips are well suited to complement any burger, sandwich, or meal. Natural Harvest's perfectly balanced brine ….
Our barrel cured full sour receives constant personal attention throughout our gradual curing process. Natural Harvest carefully ….
At Natural Harvest we take the finest freshest cucumbers in their natural form and created our one and only "green pickle," our ….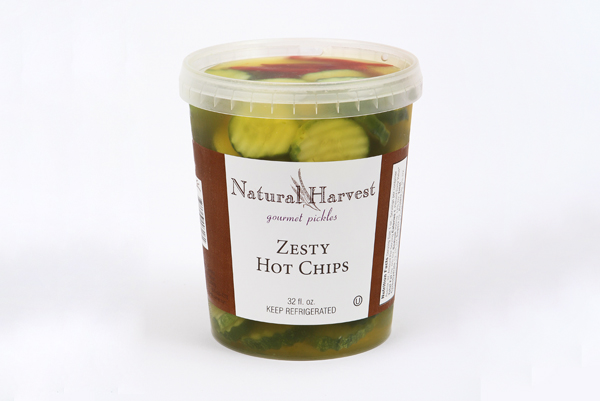 Ultimately, our customers find these pickle chips to be spicy and extremely satisfying. Our popular brine begins with our base ….
Our creative pickle juices were really flowing when we originated these savory hot and deliciously sweet pickles. "These ….
Drenched in horseradish, we succeeded at expanding your senses with these intense spears. Our pungent, spicy hot blend will ….
Our premium pickles are specially cut into crinkle cut chips, revealing the delicate flesh of the cucumber. Natural Harvest's ….
Our tangy, crispy, refreshing kraut is the perfect topping on any hotdog. It also pairs well with a Reuben sandwich with some ….
This bold pickle will set your taste buds aflame – infused with red hot chili peppers, these zesty pickles are the snack with a kick.
We created these cross cuts because we wanted a pickle that gave more than just extreme heat. When you try these, the first thing…